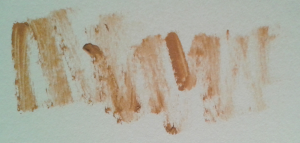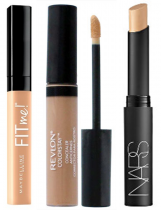 Finding the right under eye concealer is crucial if you suffer from dark circles or bags under your eyes, whether from lack of sleep, illness or heredity. It's the must have arsenal to have in your makeup kit. I certainly have it in mine, but shopping for a quality eye concealer, shade and for the right price can be daunting.
I found 3 top name brand concealers that I have tried and under $25.00.
Here are My Recommendations
Revlon Colorstay – I used #5 Medium Deep. It comes in liquid form in a tube with a mini sponge applicator. The color concealed my dark circles and blended perfectly. A little goes a long way. I also used it to cover up a small facial blemish I'd been nursing. I paid $13.95 for Revlon Colorstay Concealer.
Maybelline Fit Me – My color selection was #25 Medium. It also comes in liquid form in a tube with a mini sponge applicator. It covered my dark circles like magic. I bought Maybelline Fit Me Eye Concealer for $11.95.
Nars – I used color: Custard Shade. This concealer comes in stick form without an attached applicator. It's recommended that you use a blending brush. I used a Q-tip to apply and blend. It went on smooth and without any crease. I love it as a contour around my nose. I must say that I prefer the stick concealer to liquid. My cost for this concealer was 18.95
It's worth noting that regardless of which concealer you choose, I have found better results using my index finger to apply the concealer for better control and blending. Just make sure you wash your hands before touching your eye area.