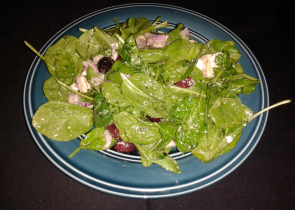 A Light Summer Salad
Summertime is humid, hot and with a busy schedule cooking is out of the question. Takeout is also a no-no, especially when you are cutting fat and calories from your diet. Your only focus is low fat and low calorie eating. It's very tempting to go off your resolve to eat healthily when you're hungry.
A fast and delicious salad on the go is easy. You only need just a few ingredients to please the palate. In this case a spinach salad. It is perfect for lunch or dinner. There is no need for meat or even bacon bits and not even croutons. I made myself a quick spinach salad for lunch because I was having an extreme hectic day and I wanted to avoid the stove like the plague.
I threw together baby spinach, diced red onions, 7 to 8 calamata pitted olives, 2 cloves of sliced garlic and feta cheese about an ounce and I made my own vinaigrette salad dressing with extra virgin olive oil and a little white vinegar seasoned with my choice of spices. My spinach salad was absolutely delicious and very satisfying.
It's a quick and healthy meal to make when you're on the go and when your appetite just won't wait.
Spinach Salad Recipe
2 cups of raw baby spinach
2 cloves of sliced or chopped garlic
¼ cup of diced red onions
7 to 8 pitted calamata olives
1 ounce of crumbled feta cheese
Mix salad in bowl and toss
Vinaigrette Dressing
2 tablespoon of extra virgin olive oil
1 tablespoon of white vinegar
Add your favorite spices to season your dressing mixture
Pour dressing over salad, toss and enjoy!