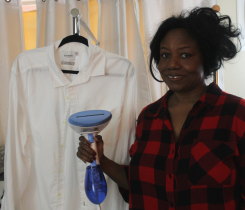 I recently purchased a Conair Extreme Hand Held Garment Steamer and fell in love with it. I bought it to steam out my incoming garments for my boutique and carry it with me in my travels. I took it with me on my recent luxury get-a-way to West Palm Beach. Read my blog here about my luxury excursion. Some times an iron and a board can be time consuming and tedious work especially when you want the job done fast. My first use of my Conair Extreme Steamer is when my recent inventory of garments for my boutique came in. The arrival of clothing does not always come in, in perfect pressed condition. Depending on the garment, items must be steamed out to remove wrinkles and bring the garment to pristine condition for sale.
As I stated earlier, I treated myself to a 3 day luxury excursion and I knew I would be packing away formal wear for a glamorous night out on the town in West Palm Beach. There are dresses and gowns you don't use an iron on. Being a professional singer, my sequin gowns was always taken to the dry cleanser for tender loving care.
Conair Extreme Garment Steamer For Business Travelers
The Conair Extreme Hand Held Garment Steamer is compact and perfect for home and travel. If you are a business traveler you understand the necessity of packing light. Maybe you've packed one or two suits for that important business meeting. The convenience of not having to depend on the service of a dry cleaner, that the hotel you're staying in provides saves you money.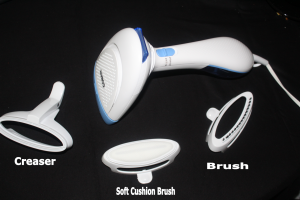 The Conair garment steamer comes with three attachments: a creaser for your pants, a brush to remove lint while steaming and a cushion brush. There is a reservoir that holds water to promote the powerful steam. You can't use water from the tap or any bottled water except distilled water. Using any water other than distilled will leave the residue of minerals on your clothing, and you don't want that. It only takes a minute or two for the steamer to get in full steam mode to begin to do its job. When you see the green light you are all set to go.
There is a pause button to use if you have to get the phone or answer the door. It is recommended that you use it, otherwise you're wasting the steam with the reduction of the water and you'll have to refill the reservoir.
You can watch me demonstrate the use of the Conair Extreme Steamer on my Lady Chanteuse TV Channel. The review and demonstration I have given is genuine. I am very happy with my purchase and I know you will be too. You can buy your own Conair Extreme Hand Held Fabric Steamer by clicking on the text links. (For full transparency and disclosure. I receive a small commission when you buy through this post.) I know you will enjoy!